This event is open to all Monash Parkville participants
Monash Parkville Student Union invites you to join us for a foodie tour at the Queen Victoria Market. Come with us for a delicious and fascinating guided walking tour of the iconic QV market. Taste the freshest produce, discover unique ingredients, learn tips and tricks for shopping and cooking, discover the Market's history and meet some of our beloved Market traders.
This event is free and open to all Monash Parkville participants. Please only register for ONLY ONE of the time slots so others can join us on the tour. There are limited spots available so please make sure you show up for your registered time slot.
When: Friday, 30th September 2022
Time Slot 1: 9:40 Am to 11:30 AM
Time Slot 2: 11:40 AM to 1: 30 PM
Where: Meet up at Queen Victoria Market Visitor Hub, Corner String Bean Alley & Queen Street, Melbourne VIC 3000
Ticket:Free Event
This event is proudly brought to you by the Monash Parkville Student Union.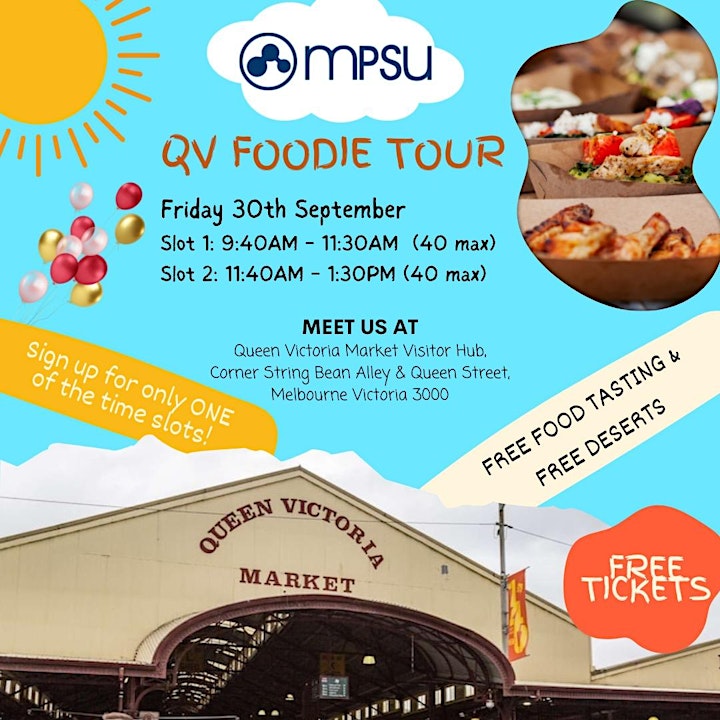 https://www.eventbrite.com.au/e/mpsu-queen-victoria-foodie-tour-tickets-4223053…